National
Press Releases & Articles 116 - 120 of 184
2009 National Riverprize Finalists Announced





13th July 2009 - Views: 938
Four outstanding river management projects have been announced as finalists in the prestigious International Riverfoundation National River prize. Proudly supported by the Australian Federal Government under its Water for the Future plan, River prize is this year worth $200,000.
Radio Grabs: More Aussies Go Online For Medical Advice





10th June 2009 - Views: 1001 "There's information online that, once you have your diagnosis, can provide you with a deeper understanding.
Radio Grabs: National E-security Awareness Week





5th June 2009 - Views: 948

"Being more secure online can be as simple as getting a better, stronger password and updating it twice a year," the Minister for Broadband, Communications and the Digital Economy, Senator Stephen Conroy said.
Radio Grabs: Record Interest In Farm Day 2009





30th May 2009 - Views: 938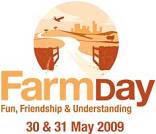 Instigated by one woman in 2006, Farm Day is now so popular that it has become a national event, with more than 800 city and country families participating.
World Ms Day, Wed 27 May





26th May 2009 - Views: 999 Rock group U2 has lent support through the use of its song "Beautiful Day" for the global campaign film showing the "1000 faces of Multiple Sclerosis," which will be released on 00.01 GMT Wednesday 27 May.